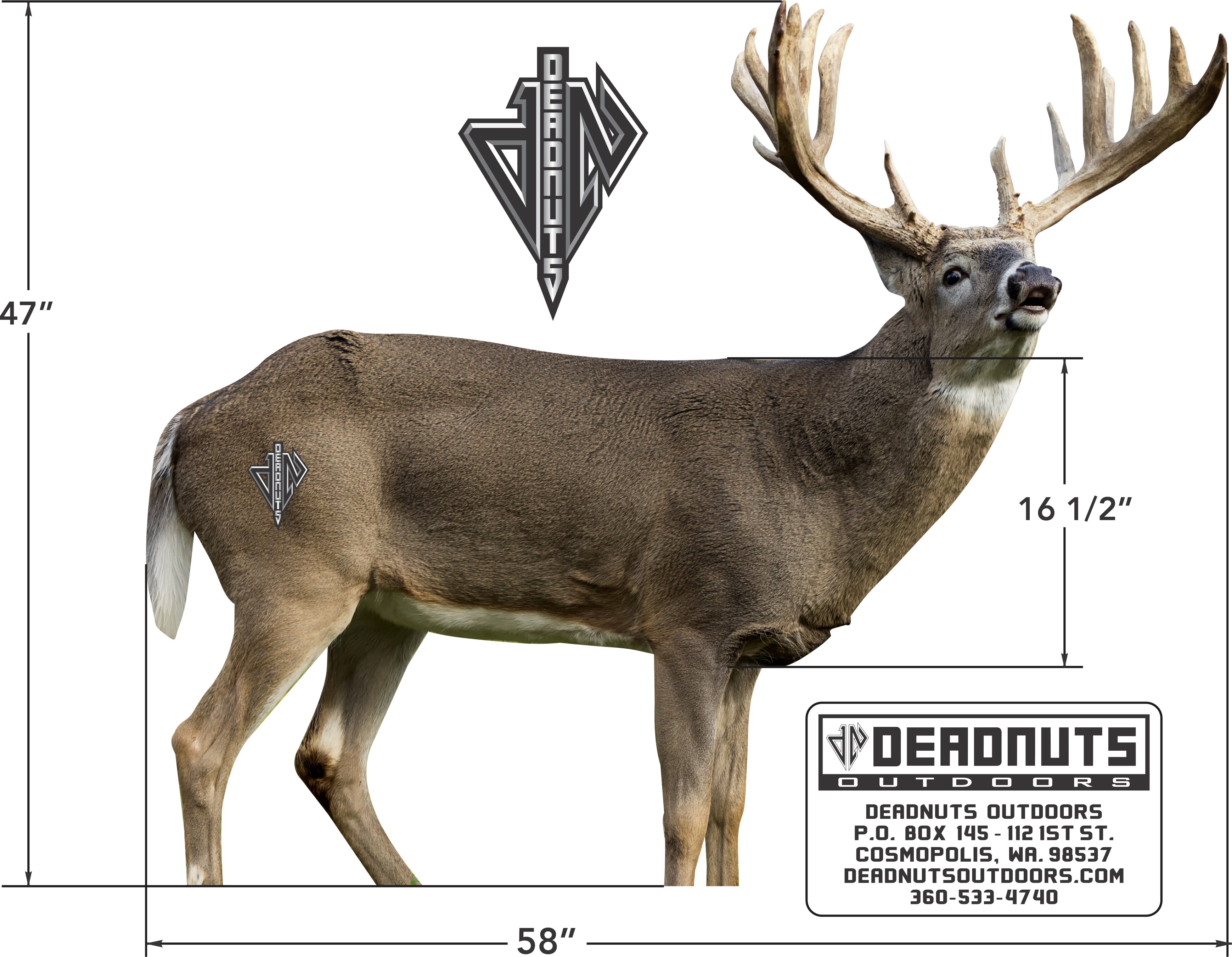 2D Whitetail Broadside Target
Pickup available at D4 SPORTS
Usually ready in 24 hours
2D Whitetail Broadside Target
D4 SPORTS
Pickup available, usually ready in 24 hours
121 West Pioneer Avenue
Montesano WA 98563
United States
+13605334740
Deadnuts Targets are designed to be lifelike so that you can prepare for the shot of your life. All targets are measured from the top of the shoulder to the bottom of the brisket to provide you with the most accurate and precise vital area. The length of the target may not be as accurate to life size, however. Some species may be turned and angled slightly making them shorter in length. All angles, heights and depths have been carefully considered for accurate placement of vital areas on each species.

The Deadnuts Target, combined with a stand (not included) and a block or bag backstop (not included) simply gives you the most realistic experience in preparation for your shot of a lifetime

DeadNuts Broadside Whitetail 

LIFE LIKE 2D "WHITETAIL BUCK BROADSIDE" TARGET

Deadnuts Targets Require a Backstop

HIGH DEFINITION / LIFE LIKE TARGETS FOR SHOTS OF A LIFETIME
CONSTRUCTED OF EXTREMELY DURABLE, FLUTED POLYPROPOLENE
EASY TO CARRY / EASY TO ASSEMBLE / EASIER TO SHOOT
PRACTICE SHOOTING "THE SPOT", NOT THE DOT

KIT INCLUDES:

HANGING TABS
STABILIZER STRIPS
(2) 

REPLACMENT VITAL ZONE INSERTS
ALL LOGOS & PRODUCTS ARE © OF DEADNUTS OUTDOORS 2021
*PATENT PENDING ON DEADNUTS OUTDOORS 2D TARGETS
You need this
This is a really cool target. Despite my initial skepticism this things holds up really well. Scale is perfect and it's superbly realistic when your looking down your arrow.
This item is not what I expected I was thinking it would be a legit target or the shooting area was a real target
Super fun and compact
It's been great to use and the colors are so realistic it's great practice for low light and realistic conditions. I love that you can move it from target to target or location to location easily.
Hyde Bowhunting
Little work I getting a target to fit had to cut legs off about 4 inches and the antlers do not hold up to the wind should make a little stiffer, happy with the target I shoote about 20 arrows a day into the target still on the first vitals
I have it mounted to my 4'x 4'x 20" foam target as a backstop. I shoot from 20 to 60 yards and it works great. The only thing of concern is the Kill Zone gets beat up fairly quickly. I've already had to replace one and I'm using the second now, but unfortunately, the two others that I received in the shipping container are the wrong size and shape, apparently meant for another target.